LOGITECH G35 USB HEADPHONES: Is it Compatible with the Sony PS3 or the XBox 360?
By: rcable
On: 11/29/2009 01:59:06
Comments: 0
I was very happy when I tested the G35 headset on my Dell Inspiron 530, the sound quality was outstanding. I thought it was one of the best headsets I've purchased to date. After testing it on a quad core Windows XP PC with great results, I soon discovered to my disappointment that it does not work on the Sony PS3 nor does it work on one of my older PCs with an AMD Athlon XP2800 CPU.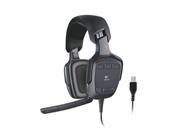 The Logitech G35 is basically a Windows only headset because it is dependent on the Windows drivers to operate properly therefore you won't be able to use it on the PS3 or the XBox 360. Also, I think there are other issues with the PS3 since if does not currently work with most USB headsets Hopefully this is something that Sony can patch with an update down the road but for now I'm SOL.
PS3 HEADSET RECOMMENDATION / Logitech G35 ALTERNATIVES
PC COMPATIBILITY: CPUs & WINDOWS XP or WINDOWS 7
As for the PC with the AMD Athlon CPU, I don't get that one at all nor does it say on the packaging that it required a specific CPU to run. So it appears that the
Logitech G35
is not compatible with AMD Athlon chips as well. Every time I tried to install the software for the G35 I kept getting an error:
Processor is not adequate to run G35
.
I have to admit that it was more of a let down since the tested so well on one of my newer PCs. The audio quality was pretty darn good. The bass was excellent and it seemed to be great for watching movies and listening to music.
I picked them up at Best Buy for about $130 and I saw them online at
newegg.com
for $104. Since trying them out and doing a little research online, I've heard that some folks are having issues with this headset using Windows Vista and Windows 7 but my test with the 64 bit Windows 7 seemed to be just fine.
SHOULD YOU BUY THIS HEADSET
YES - Windows XP on a P4 Processor or better
YES - Windows 7 (32 or 64 bit) on a P4 Processor of better
NO - Any version of Windows with an AMD XP Processor
NO - PS3

CONCLUSION
So if your PC is running at least a Pentium 4 CPU with Windows XP or Windows 7 and you're in market for a good headset for gaming, watching movies or just listening to music the Logitech G35 headset might be the right headset for you.
Click here to buy the Logitech G35 Surround Sound Headset from NewEgg.com
It seems that this headset is only made for a very narrow specification and Logitech did not disclose it on the box or online so shame on you Logitech. My official recommendation is only buy the G35 if you are going to game in Windows XP or Windows 7.
VIDEO
EXPERIMENTAL OPTIONS
One gentlemen from the UK has a video posted on youtube that show him hooking up a USB audio card to the PS3 and then hooking up a set of 5.1 surround sound headphones (non-USB) to the audio card to get audio out from the PS3. I'll be looking at this later and will post another article on it with the results.

OTHER ONLINE RESOURCES

You can also go to the Headphones forum on Logitech.com and see for yourself the numbers of people with various issues with the G35.