Blackberry Tour 9630 USB Cable - Where and what to buy
You wouldn't think it would be that hard to find a replacement USB cable for your Blackberry Tour 9630 but after I left mine in a hotel room 3,000 miles from home, I soon found out how hard it was to find the right one.
It took me many hours of searching online and you would think that Verizon, my cell service provider, would sell it in their stores on online but they didn't. You would think that the Blackberry web site would give you a part number and tell you where to buy a replacement but they didn't either.
So after much searching, I finally had found a replacement cable that worked. I'll share with you where to get it.
NewEgg.com sells it but but here's the confusing part, it is made by Palm. The one I just purchased is a Travel micro USB cable. Click on the link below to order one from NewEgg.com.
palm 3420WW Black Travel Micro USB Cable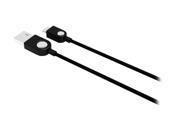 Here are some other options that you can find on Amazon.com
Regards,
Rick